From A to Z
31 March 2001 | Authors, Reviews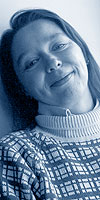 Susanne Ringell's new work is the shortest of the books published in 2000. It easily disappears on the bookshelf if one doesn't carefully remember where one put it. Only 62 pages. Yet it constructs a whole civilisation and a humanity.
Av blygsel blev Adele fet ('It was embarrasment that made Adele fat') is an ABC for grown-ups. At each letter we meet a person. At 'A' we encounter Adele, who grows as fat as she is shy. She carries 78 kilos of shyness inside her, and she eats until her body is the same weight. At 'W' we meet Walter, who runs away from the zone therapist's clinic to the restaurant. He is in no doubt as to what does body and soul good: a rare beef steak, in spite of his wife's pleas in favour of the beneficial therapy. And at 'E' and 'F' we meet Egil and Folke: two shy men waiting for a train – and for a long period of waiting to end.
Susanne Ringell gives her readers an entire alphabet; she restores to us the foundation for our structuring of language and the world around us. But a language without people would be dead. So each letter is a person; each letter is coloured by a human fate that seldom figures largely in the history books, but on which Susanne Ringell confers dignity. The people we encounter in the book are lonely. That is certainly nothing new in literature – but Ringell has an unusual gift of being able to create dignity around the most bizarre creatures.
It is perfectly clear that Egil and Folke look absurd as they stand on the platform in their woolly hats, and Walter is probably a quite intolerable male chauvinist pig. And yet it is easy to love them. They endure their lives; they do not exchange them for anything else, or anyone else's life. Firmness, dignity. Just like the stone in Ringell's book Vara sten ('Being stone', 1996): it was always proud of itself, even though the whole world around it was in motion and change. The world was forever new, while the stone grew older and older, but was always just as unchanged.
But our respect for Susanne Ringell's thumbnail sketches of Adele and the others is only half our reaction. At least as important is the joy, humour and playfulness of the texts. It is as though Ringell wants to say that there is human dignity exists, but no language that can express it totally. One can only let language approach the human being – and then sometimes the words bounce back and repeat themselves illogically. They come to a standstill in comic alliterations, they recall and sound like other words and therefore pop up in the wrong context. Respect for people demands a lack of respect for the language that is used to portray them; the reader laughs with delight.
No one in a long time has been as serious and exhilarating as Susanne Ringell when she blends linguistic analysis with psychology and absurdism. Female absurdism is something of which we cannot have too much.
Translated by David McDuff
Tags: short story
No comments for this entry yet
About the writer

Maria Antas (born 1964) is a Project Manager at FILI (Finnish Literature Exchange), a literary scholar (she has studied the childhood memories of Finland-Swedish authors Tove Jansson, Solveig von Schoultz and Renata Wrede) and former editor-in-chief of the women's magazine Astra Nova.

© Writers and translators. Anyone wishing to make use of material published on this website should apply to the Editors.