Archive for September, 2001
30 September 2001 | Fiction, poetry
From Voittokulku ('Triumphal march', Tammi, 2001). Illustrations by Jukka Korkeila
Tiamat [Bloody moon]
The goat's cheese that I have just succeeded in swallowing is now grazing in my gullet before its last metamorphosis. Soon it will be washed away into the endless system of tubing, the network of veins that proliferates beneath the paving stones. The body expels the waste and another receives it. Some people believe they are different bodies, but on thorough examination it is clear that they are both part of one and the same liquid-channeling system. I speak of a body which is a city, of liquids which surge beneath the streets, of subterranean waters. I lift a manhole cover and behold a sea which you could never dream of. The sea is a living creature and knows me better than I do myself. When I close my eyes, I see a crayfish that climbs out of the water and stretches out its pincers toward a bloody moon. What does it mean? Of that I do not wish to speak a single word.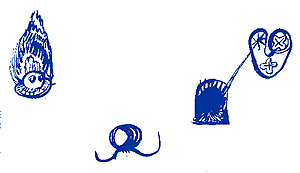 Issue 3/2001 | Archives online, Fiction, poetry
Poems from Den harhjärtade människan ('Hare-heart', Söderström & Co., 2001). Introduction by Helena Sinervo
You see,
it becomes evening,
over reeds and marsh meadows… The moon's time,
the moon's hours… one leaves one's body
and does not come back until dawn…
Now I think of the grass and of the small
lizard that sleeps in my lap, my child
with that silver-coloured skin and of
the voices of the wild dogs that the moon loves.
Once there were forests, rivers
and seas on the moon, they are still there –
death is merely the needle that
opens your eye so that at last you
can see, the light
we lived in.
• More…
Issue 3/2001 | Archives online, Fiction, Prose
Extracts from the novel Marsipansoldaten ('The marzipan soldier', Söderström & Co., 2001). Introduction by Maria Antas
[Autumn 1939]
Göran goes off to the war as a volunteer and gives the Russians one on the jaw. Well, then. First there is training, of course.
Riihimäki town. Recruit Göran Kummel billeted with 145 others in Southern elementary school. 29 men in his dormitory. A good tiled stove, tolerably warm. Tea with bread and butter for breakfast, substantial lunch with potatoes and pork gravy or porridge and milk, soup with crispbread for dinner. After three days Göran still has more or less all his things in his possession. And it is nice to be able to strut up and down in the Civil Guard tunic and warm cloak and military boots while many others are still trudging about in the things they marched in wearing. The truly privileged ones are probably attired in military fur-lined overcoats and fur caps from home, but the majority go about in civilian shirts and jackets and trousers, the most unfortunate in the same blue fine-cut suits in which they arrived, trusting that they would soon be changing into uniform. More…