Just reading
18 June 2009 | Letter from the Editors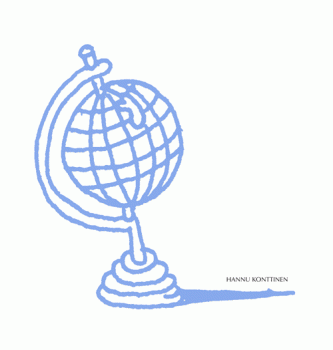 The Books from Finland website has been live for two months, and we're gradually settling in to our new mode of being. To say we were growing accustomed to our new environment, though, would be misleading. Since our last editorial, the Editor-in-Chief, the London Editor, the Web Editor and the Designer have actually spent physical time in the same room (yea, to cement the feeling of non-virtuality, they have even eaten pizza together). It would be fair to say that our reaction, jointly and severally, to publishing on line, could best be summarised as 'Yay! This is great!'
Two of us have been involved with Books from Finland for long enough to remember the days when galley proofs made their stately way from Helsinki to London, New York, etc. and back by express airmail. That was in the days when Books from Finland had a physical existence, and a physical location. It's hard to describe the feeling of liberation now that Books from Finland is anywhere you – or we – want it to be, and that the old big issue deadlines are a thing of the past. We publish what we want, when we want – usually, something new at least once a week.
And the trepidation of opening up the new issue when it arrives from the printer is also gone: if we notice a little mistake (or even a big one) we can just go right in and correct it. As the Editor-in-Chief's new, pink T-shirt puts it: 'Deadlines are over – if you want it!'
The core of Books from Finland, however, remains reading – the same imaginative interaction with a universally agreed symbol system that characterised our relationship with the printed word. We've worked very hard to try to make our website a place to go to read. Quiet as well as exciting, somewhere to meditate as well as make discoveries.
For that reason, although we'll be offering as many useful links to other websites as we possibly can, you'll generally find them at the end of a piece, not in it. Except where the subject matter demands, as in Teemu Manninen's recent post, Re-inventing the book: on the papernet, pod and the unbook.
In fact, as Teemu suggests, not far behind our arrival on the internet there follows the possibility to step right off it again – the opportunity, through a print-on-demand service, for you, dear reader, to print your own choice of articles to make your unique, personalised issue of Books from Finland. Watch this space.
So, on the eve of midsummer, what might your own summer issue of Books from Finland look like? Coming up over the next couple of months is Jyrki Lehtola's Journalists' tales, where this time he takes a sideways glance at the media infatuation with the Finnish foreign minister (and the unfortunate results for the object of its affection); some fascinating pairings of snapshots of Helsinki from 1909 and a century later; an entertaining essay on evolution with a philosophical twist by two young scientists; and of course, more of the fresh new fiction and poetry of 2009.
Plenty of food for thought, in other words as, metaphorically speaking, we retreat to our lakeside cabins to spend the brief summer months nourishing body and soul before the darkening, busy autumn to come. We wish you an excellent summer – and some very good reading*!
The Editors
* And for anyone who fancies a trip down memory lane, here's a lucky dip of summer reading from Books from Finland's archives. Enjoy (a poem, a short story, an extract from a novel and another short story)!
No comments for this entry yet