Jansson's temptations
27 November 2009 | This 'n' that
If Tove Jansson's Moomin books are, as we certainly believe here at Books from Finland, strangely little known in the wider world, the same is even truer of her books for adults.
Incredibly, the Moomins celebrate their 65th birthday in 2010, and have been translated into 40 languages. Jansson (1914–2001) wrote her last Moomin book – there are nine altogether – in 1970. Over the last thirty years of her life, she also wrote a total of 11 volumes – novels and short stories – for grown-ups. (Books from Finland published stories from many of them as they appeared. They will become available again as our digitisation project gets underway; meanwhile, here's a story from Dockskåpet ['The doll's house', 1978].)
Back out there in the wider world, the tiny, Hampstead-based press Sort Of Books has since 2001 been introducing Jansson's lesser-known works to British readers. Latest to appear is her bleakly unsettling novel The True Deceiver (Den ärliga bedragaren, 1982), the story of a strange young woman, Katri, who breaks into an elderly artist's house and attempts to befriend her, for reasons of her own.
'People were used to the fact that everyone's eyes were more or less blue, but Katri's eyes were nearly as yellow as her dog's. She looked at the world around her through eyes narrowed to slits, so people seldom discovered their unnatural colour, more yellow than gray. But her perpetual distrust, so easily roused, could cause her eyes to open in a sudden straight stare…. People sensed that Katri Kling did not trust or care about anyone except herself and the brother she had raised and protected since he was six years old.'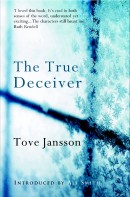 It's winter and the snow is falling, but we are clearly a long way from Moomin Valley. The Moomins, as the novelist Ali Smith remarks in her perceptive foreword (also published in the Guardian newspaper), 'survive, again and again, the storms and existentialisms of a dark Scandinavian winter through simply being mild, kind, inclusive and philosophical – … what will happen when a real community is put in their place? What will be the outcome when Jansson tackles, naturalistically, the life of a tiny hamlet in a dark winter landscape with all its usual viciousness and vicissitudes?' Smith is clearly a big Jansson fan: 'That there can still be as-yet-untranslated fiction by Jansson is simultaneously an unbelievable aberration and a sheer delight, like a finding of buried treasure every time we're lucky enough to read, for the first time in English, another of her books.' Even for those who know her work well, The True Deceiver is surprising. Unassuming, unexpected and powerful, it is, writes Smith, 'one of Jansson's most deceptively quiet, most astonishing compositions.'
The True Deceiver is translated by Thomas Teal, who also made the original translation of Jansson's The Summer Book (also available from Sort Of) into English in the 1970s.
Tags: translation