Who for? On new books for children and young people
29 January 2010 | Articles, Non-fiction
Books have a tough time in their struggle for the souls of the young: more titles for children and young adults than ever before are published in Finland, all of them trying to find their readers. Päivi Heikkilä-Halttunen picks out some of the best and most innovative reading from among last year's titles
Nine-year-old Lauha's only friend and confidant is her teddy bear Muro, because Lauha is an outsider both at home and at school. The children's novel Minä ja Muro ('Muro and me', Otava), which won the 2009 Finlandia Junior Prize, provoked discussion of whether it was appropriate for children, with its oppressive mood and the lack of any bright side brought into the life of the main character in its resolution.
Literature for children and young people finds itself wrestling with the pressures of conflicting expectations: adults think a book is a good one if they themselves genuinely enjoy it, although children often have a much more uncomplicated, hands-on relationship to reading.
It is the task of the publishing marketer to target books to the right readers of the right age. Mari Kujanpää and Aino-Maija Metsola's Minä ja Muro and Lauri Törhönen's Sello & Pallo. Vaaleansininen rakkauskertomus ('Cello & Ball: a pale blue love story',Tammi) are good examples of so-called crossover literature, intended for a broad target audience.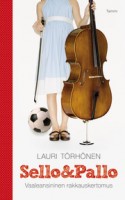 After an era of taboo-breaking and angst-filled books written for young people, this debut work by  film director Törhönen, Sello & Pallo, is an interestingly odd bird; instead of the teen dilemmas typical of the genre, Törhönen describes first love with a giddiness that teenagers aren't quite used to these days.
When it comes to fostering enthusiasm for reading, books in series are important. In fact, contemporary publishers swear by books sold in series; nearly 60 percent of last year's books for children and young adults from the three largest publishers (WSOY, Otava, Tammi) either feature heroes already familiar to readers, or are the first book in a new series. Series are of great value in the beginning stages of reading, but they can also slow down literary innovation. Children's books that can stand on their own, as they say, are rare nowadays. Picture books suffer particularly from the present proliferation of series. Finnish children's books also must contend with entertaining translated offerings as they scramble for readers: recently, the successes of Anglo-Saxon marketing have been imitated – whether consciously or unconsciously – and in the case of quality literary offerings, this can be of benefit to Finnish authors.
There are more new young writers all the time, but well-known writers may also have continued success: the classic Selja family series by Rauha S. Virtanen (born 1931) is an unusual case – its first four parts appeared between 1955 and 1964, its fifth and sixth in 2001 and 2009.
The retro fad, with its interest in the lifestyles of previous eras like the 1960s and 70s can be seen not just in fashion and interior design, but also in children's book illustrations, the delicate tones of the 70s can be seen both in the visuals and in the earnest didacticism reminiscent of 70s children's books, emphasising such themes as severe parental neglect in Mari Kujanpää and Aino-Maija Metsola's Minä ja Muro and societal breakdown in Seita Parkkola and Jani Ikonen's Usva ('Mist', WSOY).
On the other hand, some of last year's children's books, and even young adult books, held fast to the idyllic, showing no signs of recent economic decline. In Marja-Leena Tiainen's easy-to-read Maiju ja Bao ('Maiju and Bao'), a Finnish girl travels to Vietnam, where she is shocked by what she sees and starts a philanthropic campaign. In Terhi Rannela's teen novel Goa, Ganesha ja minä ('Goa, Ganesha and me'), the poverty of India inspires the main character to sponsor a foreign child on her return to Finland. A sense of community is particularly trendy in young adult books – contrary to what you might have read in the news about school-yard bullying, friends in these books aren't left to fend for themselves.
Folklore is used in books for readers of various ages. The Kalevala and other mythological subjects appear in Louhi, the adventure-packed final book in Timo Parvela's Sammon vartijat ('Guardians of the Sampo') trilogy, in Reeta Aarnio's children's fantasy Veden vanki ('The prisoner of the water'), and in Sari Peltoniemi's Hämärän rengissä ('The servant of darkness'), which is an imaginative combination of alternative history and fantasy.
Children's literature was visible at the forefront of government literary prizes in 2009. Kirsi Kunnas (born 1924), the queen of Finnish children's poetry, was nominated to the Finnish Academy of Arts, collaborators Hannele Huovi and Soili Perkiö were awarded the State Children's Culture Award for their work in children's literature and music education, and Maria Vuorio received the Finland Prize for the Arts.
But media interest in children's literature has waned – it is mainly prizes, publishing successes, and film and theatre adaptations that are considered newsworthy. In spite of the increased selection, it is the rare children's writer or children's book that receives public and critical attention.
Translated by Lola Rogers
No comments for this entry yet