Springtime in Paris: Nordic writers on a French visit
25 March 2011 | In the news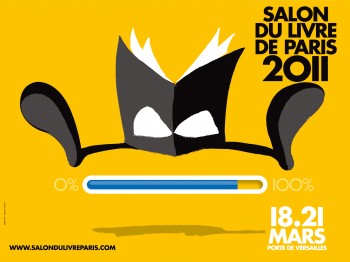 With an icy northerly wind at my back I took off from Helsinki and landed in Paris, where it was springtime and the cherry trees were in bloom. The aim of my trip was to join eleven translators from Finnish into all the main Nordic languages in examining the trickiest corners of the Finnish language and discussing the actual working conditions of literary translators, as well as the possibilities for Nordic literature to assert itself in the world.
I was also going to meet with and listen to more than sixty writers from all the Nordic countries. Why did I have to go to Paris to do it? Because this was where Bokskogen, the Forest of Books, had grown.
At the Salon du Livre held in Paris from 18 to 21 March, at which the Nordic countries were the guests of honour, FILI (the Finnish Literature Exchange) was in charge of coordinating the Nordic pavilion, some 400 square metres in area.
The airy Scandinavian Forest of Books was filled with the murmur of Parisians in search of something Nordic to read and intent on having their newly purchased books signed by authors like Sofi Oksanen, Kari Hotakainen, Matti Rönkä, Monika Fagerholm, Katarina Gäddnäs, Seita Parkkola, Aira Savisaari, Johanna Sinisalo, Aino Havukainen and Sami Toivonen.
Before the official inauguration by France's Minister of Culture Frédéric Mittérand the programmes had already been underway for four days. Just over a hundred professional people –  publishers, translators and other cultural figures and institutions from across the Nordic countries – took part in various workshops to discuss common focal points and share experiences and best practices with each other and their French colleagues.
One of the major events was the Cultural Forum, a collaboration between FILI, the Nordic Council of Ministers and the Finnish presidency of the Nordic Council of Ministers. Its theme was the training of translators, and also the book industry in a global context.
In early March a dozen French journalists and booksellers toured Helsinki and Tammisaari (Ekenäs) in order to meet Finnish authors and interview them as a prelude to the big show. As a result Nordic literature also made its presence felt in France's press and bookstores.
Translated by David McDuff
Tags: book trade, Literary events