Finlandia Prize for Non-Fiction 2011
24 November 2011 | In the news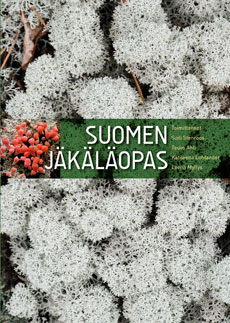 'Scientific, aesthetic, timely: the work is all of these. A work of non-fiction can be both precisely factual and emotional, full of both information and soul. A good non-fiction book will surprise. I did not expect to be enthused by lichens, their variety and colours,' declared Professor Alf Reen in announcing the winner of this year's Finlandia Prize for Non-Fiction on 17 November.
The winning work is Suomen jäkäläopas ('Guidebook of lichens in Finland'), edited by Soili Stenroos & Teuvo Ahti & Katileena Lohtander & Leena Myllys (The Botanical Museum / The Finnish Museum of Natural History). The prize is worth €30,000.
The other works on the shortlist of six were the following: Kustaa III ja suuri merisota. Taistelut Suomenlahdella 1788–1790 [('Gustav III and the great sea war. Battles in the Gulf of Finland 1788–1790', John Nurminen Foundation), written by Raoul Johnsson, with an editorial board consisting of Maria Grönroos & Ilkka Karttunen &Tommi Jokivaara & Juhani Kaskeala & Erik Båsk; Unihiekkaa etsimässä. Ratkaisuja vauvan ja taaperon unipulmiin ('In search of the sandman. Solutions to babies'  and toddlers'  sleep problems' ) by Anna Keski-Rahkonen & Minna Nalbantoglu (Duodecim); Operaatio Hokki. Päämajan vaiettu kaukopartio ('Operation Hokki. Headquarters' silenced long-distance patrol'), an account of a long-distance patrol strike in eastern Karelia during the Continuation War in 1944, by Mikko Porvali (Atena); Trotski ('Trotsky', Gummerus; biography) by Christer Pursiainen; and Lintukuvauksen käsikirja ('Handbook of bird photography') by Markus Varesvuo & Jari Peltomäki & Bence Máté (Docendo).
Tags: Finlandia Prize