Favourites in April: what Finland read
8 May 2013 | In the news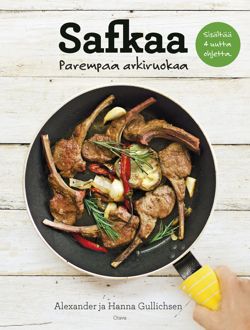 In April number one on the list of best-selling Finnish fiction titles, compiled by the Finnish Booksellers' Association, was Seppo Jokinen's crime novel Vihan sukua ('Akin to hate', Crime Time). The winner of the 2012 Finlandia Prize for Fiction, Ulla-Lena Lundberg's Is ('Ice'), still holds second place.
Pertti Jarla seems to have secured his place on the best-seller list: his latest serial comics book about the inhabitants of the city of Fingerpori ('Fingerborg', Arktinen Banaani), Lääkärileikit ('Playing doctors') was number three and the album Fingerpori 6 number four.
Paulo Coelho ruled the translated fiction list with his Manuscript Found In Accra. There are more people who find his books fascinating than there are people who don't.
At the top of the non-fiction list remained, for the third time now, Kaiken käsikirja ('Handbook of everything', Ursa) by astronomer and popular writer Esko Valtaoja; as it doesn't provide the reader with instructions for cooking, perhaps buyers went on to buy number two, Safkaa: parempaa arkiruokaa ('Grub: better food for weekdays', Otava) by Alexander and Hanna Gullichsen. Last year's big social-media hit hails from this book: avocado pasta (chili, lime, basil, garlic, spaghetti, parmesan).
Safka, incidentally, comes from the Russian word zavtrak, breakfast. (The title of the book could also have been Sapuskaa…, the word also means 'grub', from the Russian word zakuska, hors d'oeuvres.)
Tags: best-sellers