Funny stuff: best-selling books in February
13 March 2014 | In the news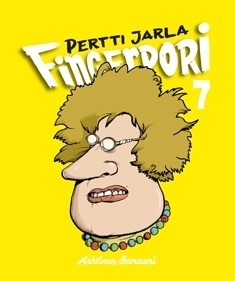 The list of best-selling books – compiled by the Finnish Booksellers' Association – shows that in February comedy was popular among readers. Number one on the Finnish fiction list was Fingerpori 7 ('Fingerborg 7', Arktinen Banaani), the latest comics book by Pertti Jarla, featuring silly stuff taking place in the city of Fingerpori.
Riikka Pulkkinen's new novel, a romantic comedy entitled Iiris Lempivaaran levoton ja painava sydän ('Iiris Lempivaara's restless and heavy heart', Otava) which was originally published in a weekly women's magazine, was number four. A satirical television series featuring two silly women devoted to dating and clubbing has also resulted in a book written by the two actresses, Heli Sutela and Minna Koskela: Anne ja Ellu lomamatkalla ('Anne and Ellu on holiday', published by Annen ja Ellun tuotanto) made its way to the seventh place. Number eight was Pertti Jarla's Fingerborg 4!
However, number two was a first novel about problems arising in a religious family, Taivaslaulu ('Heaven song', Gummerus), by Pauliina Rauhala. Number three was a first novel by an immigrant Somali woman, Nura Farah: Aavikon tyttäret ('Daughters of the desert', Otava) tells the story of women in Somalia in the second half of the 20th century.
On the non-fiction list, among cookbooks and diet guides, books on how to maintain a hormonal balance or how to wield a kettlebell sold well. A new biography, Tove Jansson (Tammi), telling the life story of the Moomin genius (1914–2001), the artist, painter, author and cartoonist, was number seven; the author is Tuula Karjalainen. (The book will be published in several countries this year, a World English edition in December.)
At the top of the best-selling children's books list is a book entitled Muumit ja tekemisen taika – 'The Moomins and the magic of doing' (Tammi). This 'Moomin' book is written by Clive Alan: we know absolutely nothing about him (he is absent from his publisher's list of authors!) – except that the name is a pseudonym.
Well, as before, it is our opinion that all the Moomin books really worth reading were created by Tove Jansson herself.
Tags: best-sellers, book trade