Now and then
22 May 2014 | This 'n' that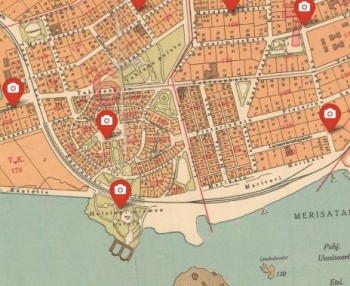 Karttalehtinen, a company that specialises in making orienteering maps, has posted 133 photographs of Helsinki from 1907–1912, by Signe Brander, the pioneering city photographer, together with contemporary Google street shots, on this zoomable site.
Click 'Google street view' (Google Maps) down left, for a bigger view. (Kuvan tiedot gives details of Brander's photo, in Finnish only.) The old photos are from the Helsinki City Museum archives.
Brander (1869–1942) was hired by Helsinki City Council's Board of Antiquities to record the fast-growing city for almost seven years between 1907 and 1913.
The southernmost photo on the map shows the barren Ursin rocks on the seashore, with Hernesaari ('Pea island') in the background. Today, as the Google shot shows, there is a park and a monument for seafarers, particularly those who lost their lives at sea.
Helsinki life and buildings as they existed a hundred years ago are portrayed in these calm shots of a small town going about its business. Signe did a very good job in her capacity as official photographer.
Tags: Helsinki, photography
No comments for this entry yet