Poetic excercises by the sea: Herbert Lomas (re)visited
21 November 2009 | Authors, Interviews
The prize-winning British poet Herbert Lomas has been translating Finnish poetry – much of it for Books from Finland – for more than thirty years. Soila Lehtonen, our Editor-in-Chief and his long-time collaborator, interviews him on the occasion of the publication of his collected poems, A Casual Knack of Living
The shoreline and the seaside promenade stretch out along the windy East Suffolk coast in Aldeburgh, where Herbert Lomas lives in a pink house called North Gable.
In summer thousands of tourists frequent the picturesque village, particularly during the music festival in June, founded in 1948 by the local composer Benjamin Britten. A poetry festival, too, takes place every autumn, this year for the 21st time.
Herbert – Bertie to those, like us at Books from Finland, who know him well – has just published a handsome tome of poetry, A Casual Knack of Living, containing poems from nine earlier collections plus a selection of previously unpublished poems, entitled Nightlights. The home of his publisher, Arc Publications, is in the village where he was born, 85 years ago, Todmorden in the Pennines.
Night fishing
They sit on the shoreline, under
a green umbrella, wielding quidsworth
of equipment and catching a few whiting.
At the eye clinic, behind me, a lady said,
She's so much older than him, you know.
She won't leave him alone. He's had to
take up night fishing. But no: they munch
a sandwich under the wind, share it
with their dog and stare at the silver
the moon's unrolling to their feet,
feeling how the world was before it was
so well-organised and understood,
and in the dawn a red ball rises
swiftly out of the sea
and disappears inside a cloud like a god.
From Nightlights (in A Casual Knack of Living)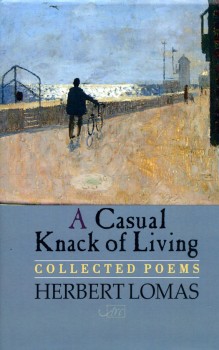 In the 1940s young Bertie left Yorkshire for India – where he served for two years as a lieutenant in the 6th Battalion of Garhwal Rifles during the war – and, after the war, for Greece, to teach English, and then, to Finland.
HL: I studied English at Liverpool University, but knew I really didn't want an academic career. Then in 1952 I was offered a scholarship, and out of Holland, Germany and Finland I chose Finland, as I had become very fond of Sibelius's music. So I taught English at Helsinki University for 13 years. I came back to England in 1965, and while I had been away, it had luckily transformed itself from dreary post-war gloom into the swinging England of the 1960s.
His first collection of poetry, Chimpanzees are Blameless Creatures, appeared in 1969. His Letters in the Dark (1986) was an Observer book of the year, and he has been awarded several literary prizes.
He has also been made Knight First Class, Order of the White Rose of Finland – as, while in Finland, he got seriously involved in translating Finnish literature, poetry in particular. Bertie has turned out hundreds of translations, of which the readers of Books from Finland in particular have been able to enjoy since the 1970s. The anthology Contemporary Finnish Poetry won him the [British] Poetry Society's 1991 biennial translation award. How did he find learning Finnish?
HL: There were no proper text books or dictionaries those days of course. Kept reading Pooh Builds A House and Alice in Wonderland in Finnish as well as talking with peasants, that's how I made progress. Professor Michael Branch, who taught Finnish in London, asked me to translate for Books from Finland.
Who are his favourites among the Finnish poets whose work he has translated?
HL: I now think Aaro Hellaakoski (1893–1952; a selection of new translations were published in Books from Finland 2/2007) and Eeva-Liisa Manner (1921–1995). Manner is a metaphysically inclined, visionary, enigmatic poet, and expressionist and modernist Hellaakoski is a master of rhythm and rhyme.
Bertie Lomas likes to play with rhymes and words, 'solving' poems like riddles or sudokus – definitely among his best work are the hilarious and ingenious, limerick-inspired verses for children by Kirsi Kunnas.
The poems in The Vale of Todmorden are memories, fragments and glimpses of a time past. Revisiting that 'lost history' has resulted in 80 poems with vivid and detailed observations of people, incidents and places in the 1920s and 1930s. '…farmers, millworkers, / dyemasters, soldiers, survivors, sometimes / impregnated by randy gentry, we went / down in the world, and up, and down again, / till there were none of us in the valley, / though the valley was still in us.' ('Pennine way')
HL: My parents ran a pub called The Black Swan – until they lost everything in the Depression; I was placed with my auntie for a while. I was an only child and spent lots of time outdoors, climbing the rocks and wandering on the hills with my dog. In those days children were allowed so much freedom.
Listening
The wind's listening, and the rain on Whirlaw,
and the valley's long shadows in the evening.
A late blackbird breaks in on the quiet
of moss and lichen, and I know I'm here.
The trees know I'm here, and someone else
knows I'm here, listening, as I'm listening.
It seems like myself, only older, stranger,
knowing I'm not really the little boy I am.
Before leaving Aldeburgh for London I take a stroll on the broad, motley, crunchy mattress of pebbles on the shore. Those zillions of brown, grey and white stones, polished by the mighty cold swell of the North Sea, are so beautiful that I just have to steal a dozen to take home, to place on the windowsill in the office of Books from Finland.
And yes; Bertie has agreed to solve a few more riddles in Finnish, a handful of new poems by Ilpo Tiihonen, so watch this space.
Tags: translation
About the writer

Soila Lehtonen is a journalist and theatre critic and the Editor-in-Chief of Books from Finland from 2007 to 2015. She edited a collection of writings about the city of Helsinki together with Hildi Hawkins, Helsinki: a literary companion (The Finnish Literature Society, 2000).

© Writers and translators. Anyone wishing to make use of material published on this website should apply to the Editors.