Book-giving time!
12 November 2010 | In the news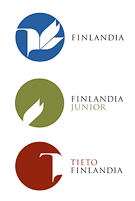 The few weeks before Christmas are when most books are bought in Finland, so shortlists of literary prizes start popping up in November.
All the juries of the three biggest prizes – worth €30,000 each, awarded by the Finnish Book Foundation – have now published their shortlists: the Finlandia Prize for Non-Fiction, the Finlandia Junior Prize and the Finlandia Prize for Fiction.
The winners, each chosen by one person, will be announced in December. This FILI – Finnish Literature Exchange newsletter link will take you to the jury members' assessments of the shortlisted non-fiction and Junior Prize works.
The following six novels ended up on the Finlandia Prize for Fiction list:
Joel Haahtela: Katoamispiste ('Vanishing point', Otava), Markus Nummi: Karkkipäivä ('Candy day', Otava), Riikka Pulkkinen: Totta ('True', Teos), Mikko Rimminen: Nenäpäivä ('Nose day', Teos), Alexandra Salmela: 27 eli kuolema tekee taiteilijan ('27 or death makes an artist', Teos) and Erik Wahlström: Flugtämjaren (in Finnish translation, Kärpäsenkesyttäjä, 'The fly tamer', Schildts). Here's the FILI link to the jury's comments.
Tags: children's books, literary prizes, non-fiction, novel