Winning stories of alternative realities
10 February 2011 | In the news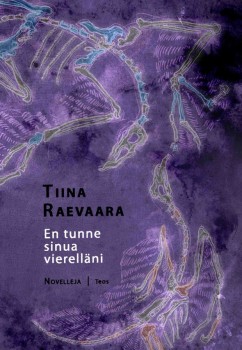 The Runeberg Prize for fiction, awarded this year for the twenty-fifth time, went to a collection of short stories by Tiina Raevaara.
Her En tunne sinua vierelläni ('I don't feel you beside me', Teos, 2010) mixes fantasy and realism, dealing with, for example, animal kingdom, human mind and artificial intelligence. See the introduction and translation of a story which we ran here on the Books from Finland website.
Raevaara (born 1979) holds a doctorate in genetics; the prizewinner is her second work of fiction. The prize, worth €10,000, was awarded on 5 February – the birthday of the poet J.L Runeberg (1804–1877) – in the southern Finnish city of Porvoo.
The jury – representing the prize's founders, the Uusimaa newspaper, the city of Porvoo, both the Finnish and Finland-Swedish writers' associations and the Finnish Critics' Association – chose the winner from a shortlist of eight books: a collection of poetry, Vagga liten vagabond ('Swing, little wanderer', Söderströms) by Eva-Stina Byggmästar, the novel Poikakirja ('Boys' Own Book', Otava) by Olli Jalonen, the novel Kiimakangas (WSOY) by Pekka Manninen, two collections of essays, Kuka nauttii eniten ('Who enjoys most') by Tommi Melender and Halun ja epäluulon esseet ('The essays of desire and suspicion') by Antti Nylén (both publlished by Savukeidas), a collection of poetry, Texas, sakset ('Texas, scissors', Otava) by Harry Salmenniemi and another collection of short stories, Apatosauruksen maa ('The land of the apatosaurus', WSOY) by Miina Supinen.
Tags: fantasy, Finnish Weird, literary prizes, science fiction, short story