Too much, too soon?
20 January 2012 | This 'n' that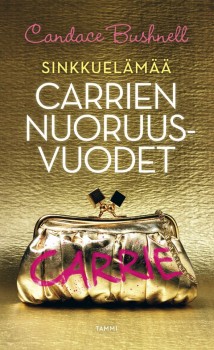 Candace Bushnell's Summer & the City (about Carrie Bradshaw's first years in NYC, published last year) is categorised among books for children and young people on the Finnish best-sellers' list. The Finnish translation occupied the eighth place in December.
But hang on, wasn't this Carrie in the fantastically famous HBO television adaptation of Bushnell's novel Sex and the City very much in her thirties, as were her three best friends – all with, yes, quite active 'adult' sex lives…? In Finland the series had a rather silly title, Sinkkuelämää, 'Single life'.
Well, of course it would be foolish not to continue the fantasticaly famous money-spinning saga, so Bushnell has gone back in time, first to Carrie's school years in small-town America in The Carrie Diaries (2010), then to her first years in NYC in  Summer & the City (2011) – and HarperCollins has pigeonholed them among its 'teen books'.
Confusingly, the Finnish titles of these two books also contain the word referring to the television series:  Sinkkuelämää – Carrien nuoruusvuodet and  Sinkkuelämää – Ensimmäinen kesä New Yorkissa. As the Finnish publisher Tammi has attached TV title to them, the customer assumes these are books for 'adults' – as indeed was the original Sex and the City.
This makes one wonder what exactly 'books for young people' are. The main characters are teens themselves? If Bushnell goes still further back in time, we shall be reading about naughty Li´l Carrie hitting another toddler on the head with her doll, in a board book.
Tags: books for young people, sex
No comments for this entry yet