Finlandia Junior Prize 2012
5 December 2012 | In the news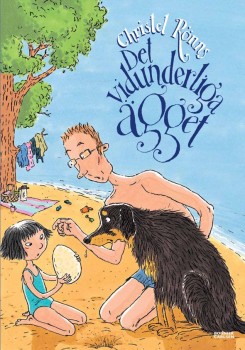 The Finlandia Junior Prize 2012 went to the illustrator and writer Christel Rönns for her book Det vidunderliga ägget ('The extraordinary egg', Söderströms & BonnierCarlsen).
The winner was chosen from the shortlist of six by the film director and actor Mari Rantasila. Awarding the prize, worth €30,000, on 29 November she said:
'The book has masterly, original and clear illustrations that support the story; the drawings include amusing details. It is refreshing to read a story about a family that all pulls in the same direction.
'Det vidunderliga ägget deals with important matters, in a way that is suitable for small children: toleration of difference and the difficulty of loss, underlining that difference is not frightening or negative.'
The following five books also made it to the shortlist: Nörtti: new game ('The nerd: new game', Otava), about a schoolboy, bullying and social media by Aleksi Delikouras, Tatu ja Patu pihalla ('Tatu and Patu on the yard', Otava), a new picture book in the series about two curious little boys by Aino Havukainen and Sami Toivonen, Hurraa Helsinki! ('Hurrah Helsinki!', Tammi), a picture book about Helsinki by Karo Hämäläinen and Salla Savolainen, Puhelias Elias ('Talkative Elias', Tammi), an illustrated story about a little boy and his parent's separation by Essi Kummu and Marika Maijala, and Kirkkaalla liekillä ('With a bright flame', Robustos), about 15-year-old Maaria, who lives through difficult times, by Venla Saalo.