Fiat lux! Helsinki lit
9 January 2014 | This 'n' that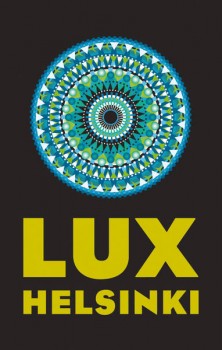 When there's no snow in January, as is the case this year, the darkness does make Helsinki appear somewhat joyless. This year Canada and parts of the United States got more than a taste of freezing Arctic temperatures – but at the time of writing winter is still postponed in the lower half of Finland.
A temporary relief was brought by Lux Helsinki – staged now for the sixth time – as light, colour and sound made the capital brighter and more beautiful between 4 and 8 January.
The core of the city, the Cathedral, was adorned by a large heart placed at the top of the steps, beating in colours to music.
Corazón, by the Madrid-born artist and fashion designer Agatha Ruiz de la Prada, in collaboration with the production and design company D-Facto, reflects her design themes of love and happiness.
One of the participants in Lux Helsinki was Unen ääret / Edges of Dreams: projected on to the façade of the Hakasalmi Villa (1843–46), between the Finlandia Hall and the Music House, it was inspired by the history of the building and its inhabitants. Now a museum, it became known as the home of a benefactor of the city, a rich and famous woman of her time, Aurora Karamzin from the 1860s to the 1890s.
The building was seen through dreamlike visions formed by painted films and shadow patterns by Mika Haaranen, a lighting and set designer and photographer. His works extend from the world of theatre and musicals to contemporary dance, concerts and film. The accompanying music was composed by Aake Otsala.
Helsinki trams have been transporting citizens from 1891. One of the trams was transformed into a moving light installation by the use of programmable LED floodlights. The work was designed and realised by the Theatre Academy of the University of the Arts Helsinki lighting design students Riikka Karjalainen and Alexander Salvesen. A pity it was not possible to hop on…
No comments for this entry yet