Tag: design
26 April 2013 | This 'n' that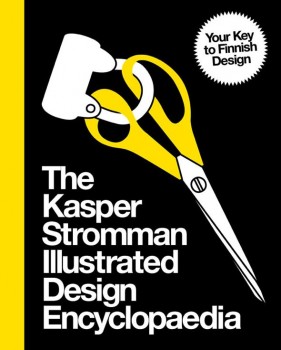 Hey, design hipsters, wherever you are – after the super-serious focus brought about by Helsinki's year as World Design Capital 2012, here's a way to blow off steam.
Written by the comic-strip artist, illustrator and designer Kasper Strömman (born 1974), The Kasper Stromman Illustrated Design Encyclopedia (HuudaHuuda, 2013) consists of a series of post-ironic sound-bites on Finnish material culture.
Strömman was voted Graphic Designer of 2013 in Finland by Grafia (Association of Visual Communication Designers), by a jury that considered him to be a 'catalyst, challenger and the standup comedian of graphic design'.
His book really is encyclopaedic, with entries ranging from the usual suspects (Artek, Arabia, Iittala) through the iconoclastic (in purist design terms, anyway: Angry Birds, the heteka sofa bed, Nokia gumboots and mobile phones) and the everyday (hapankorppu crispbread, vihreä kuula sweets, the Anttila mail-order catalogue and store) to the just plain wacky (the Aqua Tube disposable toilet roll, the Konrad ReijoWaara bridge, the Superlon mattress).
There are also fun sections on how to make your own design classics – for example, a pair of original orange Fiskars scissors (just use some paint) or Harri Koskinen's glass block lamp – and outings to less-than-fashionable destinations (in eastern Helsinki) such as the Puhos shopping centre or the Itä-Pasila housing estate.
And so on. You can get a taste of what to expect at Kasper Strömman's design blog in English (sadly discontinued, although it remains online. He's started a new blog, although only in Finnish, entitled Kasper Diem…).
So far, so good; we like the idea, and it's hard to think of another source that succeeds so well in bringing together every material thing we think of as Finnish. The problem is that it's all delivered in faintly annoying one-liners – Kalevala Koru makes 'jewellery based on bronze age findings, usually bought for you by your parents'; the Jugend style of architecture 'should not be confused with "Hitler Jugend"'; Lapponia, Lapland in Latin, 'useful to know if you were planning a ski trip in the Middle Ages' – quite funny at first, but in the end they begin to get on your nerves. It's like a diet of street food that never quite adds up to a meal.
The book's foreword claims it to be 'unique in the sense that it was put together with a minimum amount of research' – no designers' names or information-based facts. There's an advantage here – it means that Strömman has felt free to include, among his opinions, plenty of oral and hearsay information, essential in dealing with everyday objects and their meanings.
But it also means that, too often, the author has let himself off the hook with a gag or a quip when staying with the subject would have been really rewarding. It's a bit too much like material culture with attention deficit disorder. (It's also hard to see who the book is really directed at – many of the jokes are so 'in' that it's only those who are already in the know who will appreciate them.)
So hey, guys (Strömman refers to himself in the plural, so we will too), how about a challenge? Why not take yourselves seriously, and write the full-out version?