Coffee with a twist
13 February 2014 | This 'n' that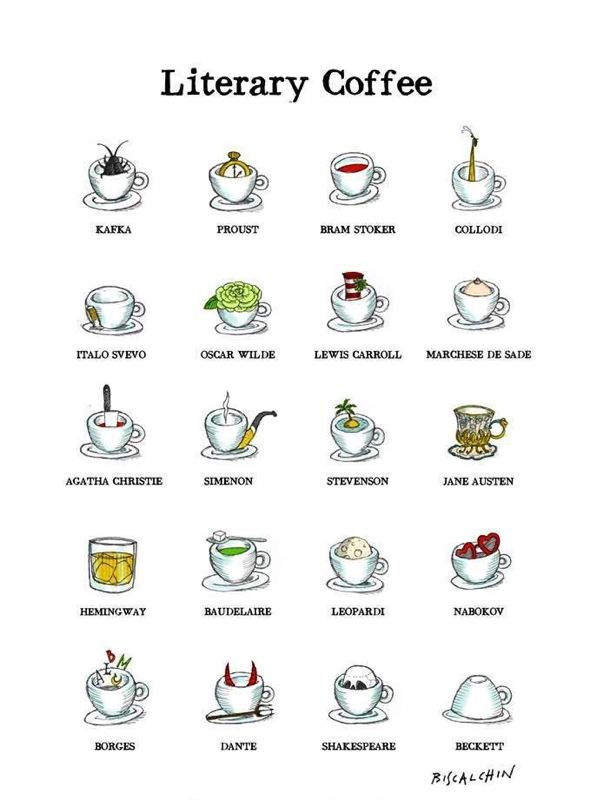 The Italian food illustrator and artist Gianluca Biscalchin combines authors and coffees in this picture: an amusing quiz for any friend of literature. (We think Beckett is particularly incisive.)
One could try out the same method adapted to Finnish authors; it first comes to mind that there are names that would work the same way as Hemingway here. Pentti Saarikoski, the hard-drinking literary enfant terrible of the 1960s and 1970s (1937–1983), for example.
The comic writer Arto Paasilinna (born 1942; very popular in translation in Italy, by the way), surely, would have a pair of hare's ears sticking out of his cup (his most-translated novel is Jäniksen vuosi, The year of the hare – L'anno della lepre).
The prolific lyric modernist, playwright and author Paavo Haavikko (1931–2008), would have a leafy tree in his cup, as one of his best collections of poetry is entitled Puut, kaikki heidän vihreytensä ('The trees, all their green').
And of course: out of Tove Jansson's cup a moomintroll or a hemulen would peep out!
Tags: authors, identity, writing
No comments for this entry yet
About the writer

Soila Lehtonen is a journalist and theatre critic, and currently Editor-in-Chief of Books from Finland. She has edited a collection of writings about the city of Helsinki together with Hildi Hawkins, Helsinki: a literary companion (The Finnish Literature Society, 2000). Hildi Hawkins is a writer and translator, and the London Editor of Books from Finland. She is also the co-editor of things, a journal of writings about objects, their pasts, presents and futures.

© Writers and translators. Anyone wishing to make use of material published on this website should apply to the Editors.