Remembrance
29 March 2014 | This 'n' that

This year is the centenary of Tove Jansson (1914–2001), the painter, caricaturist, comic strip artist, illustrator and author of books for both children and adults, and, what made her name internationally, the creator of the Moomins. Today, her Moomin books are available in 40 languages.
One sunny April day, walking through the atmospheric old Hietaniemi cemetery by the sea in Helsinki, a charming little bronze statue on top of a narrow granite column caught my eye.
It was a small child balancing on a ball, waving its arms and legs joyously in the air. On a closer look, there was something white attached to the statue: it was a tiny white plastic Moomin.
On the Janssons' family grave the first little blue flowers had just risen to the surface to bask in the early spring sun. Tove's father was the sculptor Victor Jansson, her mother was the cartoonist and artist Signe Hammarsten Jansson.
Perhaps one of Tove's fans had chosen this way of paying homage to the creator of the unique Moomin universe.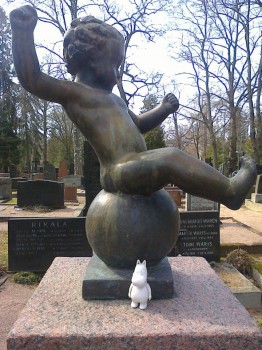 No comments for this entry yet