Favour and fame: becoming a best-seller
10 April 2014 | In the news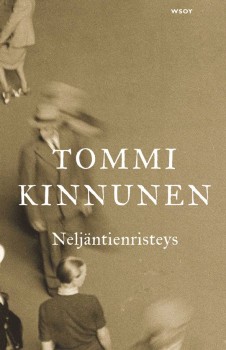 At the top of the list of best-selling books – compiled by the Finnish Booksellers' Association – in March was the first novel by Tommi Kinnunen, a teacher of Finnish language and literature from Turku. In Neljäntienristeys ('The crossing of four roads', WSOY) the narrative spans a century beginning in the late 19th century and is set mainly in Northern Finland, focusing on the lives of four people related to each other. Undoubtedly well-written, it continues the popular tradition of realistic novels set in the 20th-century Finland.
Finland is a small country with one exceptionally large newspaper, Helsingin Sanomat (read by more than 800,000 people daily). The annual literary prize that carries the paper's name is awarded to a best first work, and candidates are assessed throughout the year.
In February the paper's literary critic Antti Majander declared in his review of Kinnunen's book: 'Such weighty and sure-footed prose debuts appear seldom. If I were to say a couple of times in a decade, I would probably be being over-enthusiastic. But let it be. Critics' measuring sticks are destined for the bonfire.'
In March, Kinnunen's book immediately shot to number one on the list of the best-selling books. (Other professional critics have also noted the mature skills of the author.)
Number two was another first novel, published last autumn and still exceptionally popular, about problems arising in a religious family, Taivaslaulu ('Heaven song', Gummerus) by Pauliina Rauhala. Number three was February's number one, Fingerpori 7, a comic book by Pertti Jarla.
A Dance with Dragons by the American sci-fi and fantasy writer George R.R. Martin led the list of translated fiction. On the non-fiction list of 20 books there were eight books on cooking and food, and one on slimming…. To the second place rose the biography of the artist, writer and creator of the Moomins Tove Jansson (1914–2001) compiled by Tuula Karjalainen.
Tags: best-sellers, media, novel