Crime, no punishment
24 June 2014 | In the news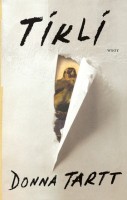 Summer is the season for crime – where buying and reading books is concerned. When spring ends and summer begins, several whodunits and thrillers appear on the list of best-selling books compiled by the Finnish Booksellers' Association. However, on the translated fiction list Donna Tartt rules with her novel The Goldfinch (Tikli, WSOY).
For the third time since March, number one on the Finnish fiction list in May was Tommi Kinnunen's first novel, Neljäntienristeys ('The crossing of four roads', WSOY). In March this title reached the top after favourable reviews – in the Helsingin Sanomat daily paper in particular.
The narrative spans a century, beginning in the late 19th century, and is set mainly in Northern Finland. The Swedish publisher Norstedts was the first to buy the translation rights.
The next two on the list are crime novels: Cowboy (Otava) by Reijo Mäki and Mustat sydämet ('Black hearts', Crime Time) by Seppo Jokinen. The new 'granny crime' book by Minna Lindgren, the sequel to her Kuolema Ehtoolehdossa ('Death at Twilight Grove', 2013, Teos), entitled Ehtoolehdon pakolaiset ('Twilight Grove refugees') is number five; the resourceful 90-year-plus protagonists may not be criminals themselves, but odd things are certainly happening in the home for the elderly again. Lindgren's first book is making its way into other languages as well.
Soiva laulukirja ('The singing songbook', Tammi), edited by Soili Perkiö, tops the list of books for children and young people: the push of a button delivers a piano accompaniment to any one of 50 Finnish songs. It may prove to be particularly popular with parents as entertainment for their kids on long car journeys.
Five of the other nine of the best-selling books on the translated fiction list – on which Tartt was number one – are about serial killers and other murderers.
The non-fiction list is headed by a collection of messages from the spiritual world: the pop star Katri Helena (born 1945) who debuted in 1963, has written down what she feels her dead loved ones have chosen to tell her. Taivaan tie ('Heaven road', Otava) deals with love, conscience, good deeds and the good life. One might wonder though why this selection of aphoristic observations is included in the non-fiction category.
On the list there are also books on baking cakes and cooking, and, as usual in summer, on nature, as people retreat to their summer homes to lie in hammocks to listen to birdsong and read about serial killers.
Tags: best-sellers