Furies and angels: best-selling books in August
10 September 2014 | In the news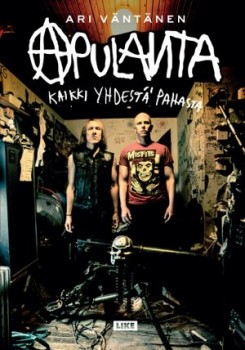 On the August list of the best-selling non-fiction compiled by Suomen Kirjakauppaliitto, the Finnish Booksellers' Association, are two translated books on furies and angels: number two is Hitler's Furies: German Women in the Nazi Killing Fields by Wendy Lower (Atena), number three is Love from Heaven (Otava) by Lorna Byrne, an Irishwoman and writer of books about angels who claims she has met the Archangel Michael.
At the top of the list, however, was Apulanta, the story of the Finnish rock band of the same name (it translates as 'Fertilizer') by Ari Väntänen (Like).
The top three Finnish fiction books were new: the latest novel by Tuomas Kyrö, Ilosia aikoja, Mielensäpahoittaja ('Happy times, the one who takes offence', WSOY), a new novel, about a couple who wins the lottery by Anna-Leena Härkönen, Kaikki oikein ('Direct hit', Otava) and a first novel, Kissani Jugoslavia ('My cat Yugoslavia', Otava), by Pajtim Statovci (born 1990), the story of an Albanian family arriving in Finland as refugees.
Mielensäpahoittaja is a noun: Kyrö's protagonist is an 80-something man who lives in the countryside and opposes most of what contemporary lifestyles have to offer. His favourite sentence used to begin with 'so I took offence when…' This is the third book in the surprisingly popular series, and Kyrö's Mr Grumpy (who originates from monologues written for the radio) has also appeared on the stage as well as on the screen: the first night of the film Mielensäpahoittaja (directed by Dome Karukoski) took place in early September.
Tags: best-sellers, book trade