Author: Hildi Hawkins
23 April 2015 | This 'n' that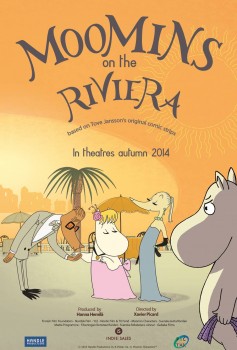 A new, Finnish-French, animated movie sees the Moomin family caught up in a typhoon that lands them among the fleshpots of the French Riviera.
Based not on Tove Jansson's children's books, but on a cartoon strip drawn by Tove and her brother, Lars, that ran in the London Evening Standard newspaper between 1954 and 1970, Moomins on the Riviera offers the Moomins a whole host of new experiences.
The plot draws the experiences of Tove and her mother on holiday in the south of France. The bedraggled family takes up residence in the royal suite of the Grand Hotel, where they are initially quite unaware that they will have to pay for the privilege. Moominpappa makes friends with the aristocratic Marquis de Mongaga and affects the surname 'de Moomin'; the Snorkmaiden, meanwhile, is dazzled by the charms of a playboy by the name of Clark Tresco. Overwhelmed – and worried about how the family can stick together in the face of all these new experiences – Moomintroll and Moominmamma decide to move to the beach, and seek shelter under their shipwrecked boat.
The trailer for the film, which is a co-production between Handle Productions of Finland Pictak of France, shows a hand-drawn animation style which stays very close to Tove Jansson's original drawings – something which will delight the many Moomin fans who were horrified by the cute, balloon-like characters in the popular Japanese TV animation.
The film's director is Xavier Picard, and its producer and co-director Hanna Hemilä. It opens in London on 22 May.