Friendly voices
27 April 2015 | Letter from the Editors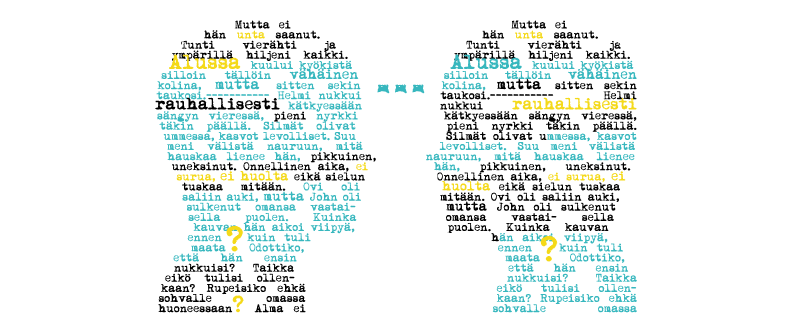 No one could call reading – or writing, for that matter – a social activity. No matter how many reading, or writing, groups you may choose to join, the actual engagement with a book is something you do alone.
Music, theatre, cinema, dance – those really are social enterprises. You can go to them together; you can watch them together, at the same time; you can talk about the experience you've shared. Even computer games, which sometimes seem to their elders to be making solipsists of all our children, are social, even if the 'friends' they play with may be the other side of the world, and may not speak the same language.
You're never alone with a good book, as the advertising slogan says. But you're not exactly in company, either… except….

I've been struck, in editing Books from Finland over the past few months, by the multiplicity of voices that surround it.
There are the voices of the authors, of course, sharply differentiated and individual. But – particularly in preparing our newly digitised archive pieces for publication – I've been listening to the voices of the writers who have contributed introductions to the work we feature, or interviewed our authors.
Pekka Tarkka on the Pispala authors, for example, or Erkka Lehtola on Gösta Ågren, or David Barrett on Aleksis Kivi, or Daniel Katz on (ahem) Daniel Katz  – all of them seem to me to play the role of co-readers, friendly and better-informed, offering a warm enthusiasm and understanding to lighten the loneliness of reading, particularly reading work from a culture that may be less than familiar.
I have to declare an interest here: I came to Books from Finland as a recent graduate, not in any literary discipline, but in mathematics. I was bilingual, yes, and a voracious reader (in fact it was reading in Finnish that began to teach me to read more slowly, more attentively), but I knew nothing of Finnish literature beyond the snatches of pre-war poetry that my mother and my aunt used to love to recite. In terms of literature, Books from Finland was my university; and, years before I was allowed anywhere near the great and good figures who sat on the Editorial Board, or encountered any of the writers in person, their friendly voices helped me to open the door to the world of Finnish writing.
Criticism, in Books from Finland, takes place behind the scenes – before publication, not in it: this isn't so much a critical journal as a journal of recommendations. Criticism, analysis, is of course by no means barred from our pages; but it's not the main point. The writing that accompanies the texts – with its analyses of character and plot, its expositions of historical background, its personal memories, its personal readings – performs a different role.
Back in 1995, in the introduction to a volume of new writing from Finland that I edited with Soila Lehtonen (On the Border, Carcanet), we wrote: 'beyond the limits of literature written in English, but adjoining it, lies writing whose language structure, preoccupations and reality are different enough to reflect something new into the world called English literature'. This is the kind of writing we featured in On the Border, and it's the kind of writing we run in Books from Finland. 'In its closeness lies the possibility of understanding…; in its otherness lies the hope of enrichment, excitement, enlargement.'

Books from Finland rests on the generous support for the arts which has always formed part of Finnish government policy. Ever since the days of Jean Sibelius, Akseli Gallen-Kallela and Alvar Aalto, Finland has always traded on its artistic reputation, principally in music, art and architecture; Finnish literature, limited by its languages, has played a quieter role, although through the efforts of government-funded bodies such as the Finnish Literature Exchange in promoting the publication of work in translation, an increasingly important one.
As we noted in On the Border, it's this tradition of artistic self-promotion that allows us, here at Books from Finland, to give our translators – who might otherwise have sought an easier and more lucrative language to work from ­ ­– a place to publish, and to develop a conversation about Finland, in English but not English.
Enrichment, excitement, enlargement: none of these has changed over the past twenty years. They are still the primus motor, the values that continue to lie at the heart of the Books from Finland project. Good books, good translation, and explanation – the friendly voices of those fellow readers and fellow enthusiasts who can open the door, point out the most interesting features of the new literary landscape that lies within, explain its oddities, and suggest possible routes and interesting detours.
No comments for this entry yet