Author: Ville Tietäväinen
22 November 2013 | Comics, Fiction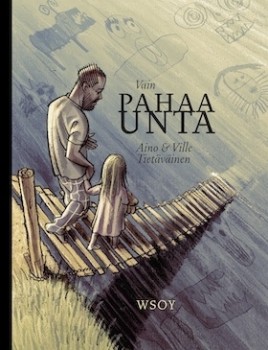 The father is woken up in the middle of the night because his small daughter suffers from nightmares. He asks her to tell him about them so they won't frighten her any longer. Giant bunnies wearing high heels chase little Aino, a scary three-eyed gnome pours apple jam onto her, Daddy has turned into a dog….
Graphic artist Ville Tietäväinen began writing down Aino's dreams when she was three, and together they illustrated them. The result is a graphic storybook entitled Vain pahaa unta ('Just a bad dream', WSOY, 2013).
Visible in the background are selected quotations from books on dreams and nightmares.. Aino's nightmares are certainly produced by a lively imagination, making this an excitingly quirky book.
It was selected as one of the six runners-up of the Finlandia Junior Prize 2013; the winner will be announced on 26 November. (We tend to think, though, that Vain pahaa unta is definitely a more interesting read for daddies than kiddies.)