Tove Jansson meets Lewis Carroll
27 May 2011 | In the news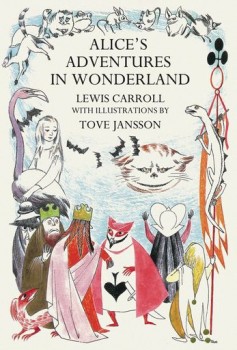 The British art museum Tate has recently reprinted two of Lewis Carroll's books with illustrations by Tove Jansson, artist, writer and creator of the Moomins.
Tove Jansson (1914–2001) had begun to write and illustrate her Moomin stories for children in the late 1940s. In 1959 she was commissioned to illustrate the Swedish-language translation of Lewis Carroll's The Hunting of the Snark (1874), about an 'inconceivable creature', the Snark, for the Finland-Swedish publisher Schildts.
After illustrating The Hobbit by J.R.R. Tolkien in 1962, Jansson then took on Carroll's best-known book, Alice's Adventures in Wonderland, which was published in 1966 (see the pictures here).
The English-language original of Alice with her illustrations was then published in 1977 by Delacorte Press. Tate has now made Tove Jansson's witty, perceptive visions of Alice available again, while the Snark with her original illustrations has now been printed in English for the first time.
Tags: children's books, translation