How much did Finland read?
30 January 2014 | In the news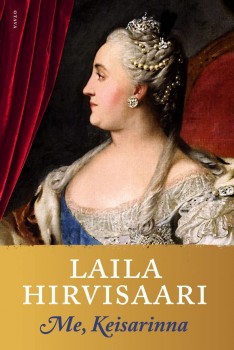 The book year 2013 showed an overall decrease – again: now for the fifth time – in book sales: 2.3 per cent less than in 2012. Fiction for adults and children as well as non-fiction sold 3–5 per cent less, whereas textbooks sold 4 per cent more, as did paperbacks, 2 per cent. The results were published by the Finnish Book Publishers' Association on 28 January.
The overall best-seller on the Finnish fiction list in 2013 was Me, Keisarinna ('We, tsarina', Otava), a novel about Catherine the Great by Laila Hirvisaari. Hirvisaari is a queen of editions with her historical novels mainly focusing on women's lives and Karelia: her 40 novels have sold four million copies.
However, her latest book sold less well than usual, with 62,800 copies. This was much less than the two best-selling novels of 2012: both the Finlandia Prize winner, Is, Jää ('Ice') by Ulla-Lena Lundberg, and the latest book by Sofi Oksanen, Kun kyyhkyset katosivat ('When the doves disappeared'), sold more than 100,000 copies.
The winner of the 2013 Finlandia Prize for Fiction, Riikka Pelo's Jokapäiväinen elämämme ('Our everyday life', Teos) sold 45,300 copies and was at fourth place on the list. Pauliina Rauhala's first novel, Taivaslaulu ('Heaven song', Gummerus), about the problems of a young couple within a religious revivalist movement that bans family planning was, slightly surprisingly, number nine with almost 30,000 copies.
The best-selling translated fiction list was – not surprisingly – dominated by crime literature: number one was Dan Brown's Inferno, with 60,400 copies.
Number one on the non-fiction list was, also not surprisingly, Guinness World Records with 35,700 copies. Next came a biography of Nokia man Jorma Ollila. The winner of the Finlandia Prize for Non-Fiction, Murtuneet mielet ('Broken minds', WSOY), sold 22,600 copies and was number seven on the list.
Eight books by the illustrator and comics writer Mauri Kunnas featured on the list of best-selling books for children and young people, with 105,000 copies sold. At 19th place was an Angry Birds book by Rovio Enterntainment. The winner of the Finlandia Junior Prize, Poika joka menetti muistinsa ('The boy who lost his memory', Otava), was at fifth place.
Kunnas was also number one on the Finnish comic books list – with his version of a 1960s rock band suspiciously reminiscent of the Rolling Stones – which added 12,400 copies to the figure of 105,000.
The best-selling e-book turned was a Fingerpori series comic book by Pertti Jarla: 13,700 copies. The sales of e-books are still very modest in Finland, despite the fact that the number of ten best-selling e-books, 87,000, grew from 2012 by 35,000 copies.
The cold fact is that Finns are buying fewer printed books. What can be done? Writing and publishing better and/or more interesting books and selling them more efficiently? Or is this just something we will have to accept in an era when books will have less and less significance in our lives?
Tags: best-sellers, book trade, ebooks, literary prizes, publishing