Author: Eeva Kilpi
Issue 2/2008 | Archives online, Essays, On writing and not writing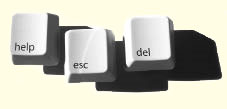 For the writer, not being able to write is just one of the profession's occupational hazards, says the author Eeva Kilpi. She recalls a particularly debilitating attack of the affliction, and offers suggestions for escaping it
I had no idea I was currently suffering from writer's block until I was asked to describe the condition.
Now I feel – as I sit at my oId, muscle-powered, Facit typewriter – that a horror of words is the first and normal reaction every time I have to begin a piece (let alone a book). Words dart into hiding like a frightened flock of birds that has barely settled to rest. (And now I hear successful, prolific colleagues rushing to explain how easy it is to use a computer to correct mistakes and move entire paragraphs even from one chapter to another, but I am paralysed by the very thought of a flickering screen, ready and waiting, and of the fateful key by pressing which one may destroy an entire immortal manuscript, as I have heard has happened to some people.) More…
Issue 4/1989 | Archives online, Fiction, Prose
Extracts from the autobiographical novel Talvisodan aika ('The time of the Winter War'), the childhood memoirs of Eeva Kilpi. During the winter of 1939–40 she was an 11-year old-schoolgirl in Karelia when it was ceded to the Soviet Union and the population evacuated
Time is the most valuable thing
we can give each other
War's coming.
One day my father comes out with the familiar words in a totally unfamiliar way, while we're sitting round the kitchen table eating, or just starting to eat.
He says to mother, as if we simply aren't there, as if we don't need to bother, or as if listening means not understanding. Or perhaps they've simply no other chance to speak to each other, as father's always got to be off hunting, or on his way to the station, and mother's always cooking. More…
Issue 3/1984 | Archives online, Fiction, Prose
A short story from Kesä ja keski-ikäinen nainen ('Summer and the middle-aged woman') Introduction by Margareta N. Deschner
Dear Colleague,
First of all, I want to thank you and your wife for the pleasant evening I and my wife had in your summer villa in August. Briitta (since we are old acquaintances: with two i's and two t's, remember?) especially wants me to mention that she will never forget the half moon climbing the hill behind your sauna, surprising us with its speed. The next time we looked it was half-way up the sky! Without doubt, your fine tequila had something to do with the matter, one shouldn't forget that. Even so, it was quite a show, just like the time a bunch of us guys had gone skiing and you bragged that you had arranged for the barn to catch fire. I hope that you and your wife – I mean Alli – will be able to visit us next winter and taste a superb Mallorca red wine called Comas, which we brought home. It is by far the best red I have ever tasted and indecently cheap to boot. I hope you will come soon. The wine won't keep indefinitely, as you well know. We'll save it for you. So thanks again.