On writing and not writing
23 October 2014 | Essays, Non-fiction, On writing and not writing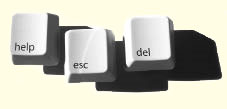 In this series, authors discuss the difficulties of their trade. Jari Järvelä finds it difficult to stop gathering source material which then gets piled in towers on his desk and in sacks around it. He knows that it's got to stop though – for when it does, the stories will finally emerge, and life is a bliss… for a moment
When I was younger I thought that writing a novel began with the moment when I sat down at my desk and pressed a key for the first time. A. Hmmm…no, H. No, let's make that S. No no no, I need a more original beginning…Z!
That's not the case. The writing of a novel begins between two and twenty years before the choice of the first letter and the first word. Sometimes longer.
In the case of my novel Särkyvää ('Fragile', 2014), I know the exact moment of its birth.
Before I began to make a career as an author, I spent a year as a teacher at Hamari school in Porvoo. It was the beginning of the 1990s. Hamari was an old sawmill community on the sea, full of wooden houses more than a century old and motor boats put-putting toward the horizon. The headmaster looked more like a sea dog than a teacher; one morning he announced that it was his fortieth birthday. After that he sat down on the staff-room sofa, fell into deep thought and suddenly ejaculated, 'Why the hell does a person have to gather so much junk in their life?!' More…