Archive for March, 2014
29 March 2014 | This 'n' that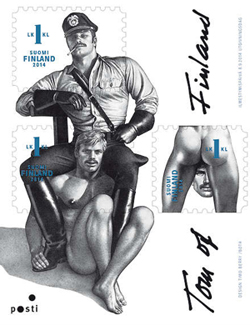 It is one of the enduring peculiarities of Finnish culture, along with the national enthusiasms for heavy metal music and the tango, that Tom of Finland, an erotic artist who specialised in stylised pencil images of muscular and well-endowed men wearing tight or little clothing, should be regarded as a national treasure.
Even more startling, according to our friends abroad, is the news that a collection of Tom's images is to be issued as postage stamps in September this year, when an exhibition opens in the Postal Museum in Tampere. 'Sealed with a Secret – Correspondence of Tom of Finland' displays Laaksonen's correspondence from the early 1940s to 1991.
As the Finnish post office, Itella Posti, remarks in its press release, Tom of Finland, or Touko Laaksonen (1920–1991), is one of the most well-known Finnish artists around the world. The images selected – which include a pair of buttocks with a moustached face peeking out from between the legs and a man in military uniform entwined with a naked one – stick to the tamer side of Tom's work, but their stereotypical homoeroticism will nevertheless be, let's say, striking additions to the envelopes on which they appear.
According to Timo Berry, the graphic artist who made the selection, the stamps portray 'a sensual life force and being proud of oneself. There is never too much of that in this northern country.'
Opinions will differ as to the artistic merits of Tom of Finland's work, but one thing is certain: it's decidedly top-shelf material. The Finnish post office website features a discussion of whom one would send which stamps to: you wouldn't, obviously, send Tom to your maiden aunt in the countryside, but the conversation doesn't examine the fact that the images will not only be viewed by the addressee. How would you explain the pictures to your small children, for example?
Postage stamps are, traditionally, regarded as an expression of national identity – in that case it's debatable what these are expressing, as Finland is not conspicuously friendly to the gay community. There is no gay marriage, and you can only legally change your gender after surgical sterilisation.
So why issue Tom of Finland as public art? We're stumped. (On the other hand, we're not convinced you need to regard stamps as an expression of national identity at all…)
Answers on a postcard, please. You choose the stamps. (Tom's stamps are self-adhesive, by the way. You don't have to, ahem, lick their backsides.)