On writing and not writing
Issue 3/2007 | Archives online, Essays, On writing and not writing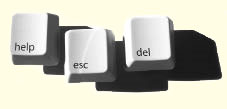 The poet Jouni Inkala finds the words-to-be of his slowly forming poems unbribable
My little fingertip, the size of
a crocodile brain, and a turpentine-taste
on my palate monitor this moment
on the unoxygenated
planet of weariness.
One will be baptised – spray paint
suddenly swishing its message
in my brains – as often in my life,
with something darker than water
freezing in the font, and I'll recall
it's actually a donkey's-years-old
message from my own stanzas.  More...